another haul of course! :)

actually during the time i was gone, i've been hauling

MUCH more

than this. but this is the recent box that i have received in this month =D so let's get started on what i have!



so recently i've been very into using cleaning tissue/wipes before washing my face to remove most of my makeup first, that is why i decided to get THEFACESHOP's Herb Day Cleansing Tissue. it was super cheap for 70 sheets & the package is so cute! i have tried this already twice & i have to say that it does a super good job in removing most of my makeup! the wet tissue is super moist but the only down side to it is it's perfume. the perfume was just way too over-powering. after wiping my face, i felt as if i had just sprayed half a bottle of perfume on my face. i'm not sure if this is the cause of me breaking out after using it or not, because lately i've been trying a lot of new products. but this is probably not going to be re-purchased again :S
the next 2 items that i picked up is the Skinfood Rice Mask Wash Off & Black Sugar Mask Wash Off. if any of you can read korean & are following korean blogs, you would know what these two products are immediately. another 2011 resolution of mine is to take better care of my skin. besides getting rid of all the acne, i would love to get rid of the scars & dead skin on my face too. hopefully the scrub isn't too harsh & the rice mask wouldn't cause any allergic reactions on my face :S i'll let you guys know later how this works out!
one of the most exciting item of my whole box! Tony Moly Fresh Aqua Cooling 24 Eyes Stick! i'm not sure if this is suppose to help with dark circles or eye puffiness or not but OMG. this stuff is AMAZINGGGGGGG! i've been using this everyday since i got it. the stick gives a cooling sensation that 'wakes up' my eyes. and the good thing about it is that the cooling sensation doesn't sting my eyes! it lasts only for about 5 seconds & it dries instantly! i think it's supposed to have the same effect as the Garnier eye rollers thing. but even though it might not be helping with my dark circles, this item is just so fun to play around with =P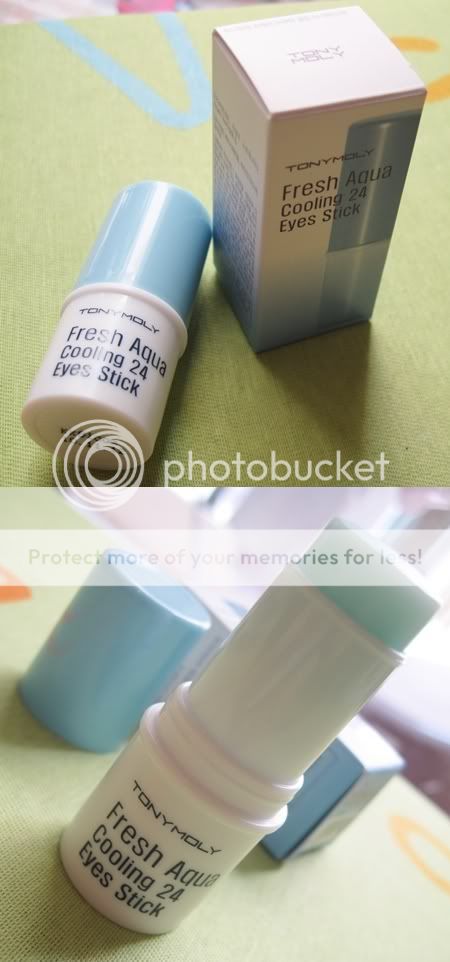 next part of my haul is brushes! at first i thought of buying the Sigma brushes but because of the high price & shipping which is really high for my budget, i decided to look for alternatives. after looking around korean blogs, i have found that everyone is raving about Holika Holika (a new brand recently launced in South Korea with CNBlue as their presenter!) brushes. and because of it's cheap price, i decided to give Finish Brush (Stippling brush) and the Eyeliner Brush a try. & i will have to say, i am not disappointed AT ALL. these brushes are SUPER soft ! a blogger even mentioned that the stippling brush is comparable to the infamous MAC 187/188 brush but because i don't own any MAC brushes, i can't say if it's true or not.
the only bad thing about this is that the bristles shed a bit. i just washed them before typing this post and about 5-6 strands(?) came off which isn't so bad. and sadly it leaked a little :( abut not as much as to stain all the white furs. i haven't tried this on my face with foundation yet (because i'm in a no-foundation period atm) but i'm pretty sure this will give me great results! As for the eyeliner, it looks promising enough that i'll be great ;)
the next 2 items isn't part of the stuff that i ordered online but a friend was in Canada and asked if i wanted anything or not. so i said Ecotools Powder & Blush Brush! after owning the 5-piece makeup set from them, i fell in love with ecotools! not only they are earth-friendly, their brushes are SUPER high quality compared to their drugstore price! these brushes are super duper soft & i guarantee that no one can say no to these lovely brushes!
not only the bristles are super soft, the bamboo handle is also high-quality. anyone looking for a cheap & high quality brush, you cannot miss trying the ecotools line! i actually wanted the angled-eyeliner brush as well but it was out of stock at that time, but oh wells, i'm super happy with the powder & blush brush! :)))))
and these are the masks & freebies that i got in my order box :)
so...................... that wasn't the only thing i'm excited for,
bc what i'm REALLY excited for is my give away !!!!!!!!
since it's my birthday next month, i plan on giving something to you guys as well :)
i'll be giving away a lot of Asian products that i have mentioned in my posts, because i know that many of you aren't living in Asia & you guys find it hard to try out these products. i'm currently still thinking about what to include in the give away but i guarantee that the box will be AWESOME. i'm also going to be opening this give away internationally, willing to pay the shipping price to anywhere via EMS! (going to be quite expensive but hey! it's my birthday gift to you guys!)
the rules are just going to be super simple, you must follow my blog (if you haven't already), leave a comment with your nickname & email (that you will check!) & that's it ! i think the give away will be ready within next week (if not, it would surely be before febuary) because i'll start ordering the items now :)
so are you guys excited about the give away?
have a great weekend! -3-
Labels: cleansing, give away, haul, make-up brush, review, update