hey guys!
sorry for being 'gone' for a while, i was actually on vacation & i finally got to go home after not seeing my family for 3-4 whole months! it was a very nice time getting to see them after a tiring term but my hard work did pay off!
4 As and only 1 B+!
*nerd moment*
and now im back to my apartment for my last term of sophomore year! with a very difficult & tiring schedule again :(
anywhos,
i finally got my
Bobbi Brown
concealers
that i was wishing for last post! i will have to say that this is one of the most
expensive concealers
i have ever gotten for myself (well, except for the
Lise Watier
one which i will do a review on it soon)
the packaging is like any good a Bobbi Brown product can get, all black & simple. i luckily got some discount coupons & got like 15-20% off? :) lucky me!
the
Bobbi Brown Corrector
is supposed to 'correct' your skintone before applying real concealer on, i have no idea how this works with dark circles bc luckily i dont have them! but this claims to be best at concealing your dark circles. the lady @ the counter also claims that it'll be more effective if you use a corrector before concealer... i immediately thought that it was bull, and they only wanted to sell product... but.... ;) you'll see later. I got the shade in peach bc it claims to be the best shade for asian skin? it seemed
incredibly orange
(well duh, it's peach!) when she swapped it on the back of my hand but she said it'll blend well on my face. and bc i was in a hurry i decided to believe her.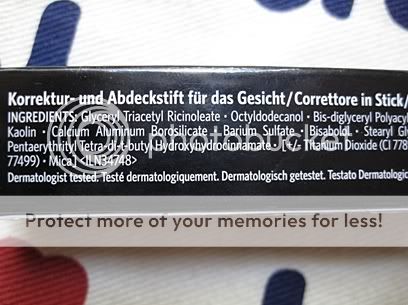 next that i got to pair with the corrector is the
Face Touch Up Stick in Beige
bc this definetly will match my skin even without the peach corrector. you may wonder why i did not get the cream concealer instead, its bc the cream concealer was very thick & moisterizing, and for me, the corrector itself already feels 'heavy' on my face (if you know what i mean) so i got the touch up stick instead thinking that i can use it on a daily basis without the corrector.
as you can see, the peach corrector is indeed very orangey & peachy, it comes in a little tub with a mirror attached to it inside the 'lid'? the touch up stick is very handy & can be carried anywhere you go and its color is like any beige concealer :)
so! lets get to the covering/swatches part! i made a picture tutorial & review which i hope you guys will find helpful. (btw, sorry about the lighting, it was 4pm & the sky was cloudy). as you can see in the first picture, the corrector is
very pigmented
& you can maybe imagine how scared i was by the color & how it might turn out on my face! *yikes* then on the back of my hand, i drew some spots with a black eyeliner (
Spring Heart
- available at Asian stores or SASA, super good eyeliner & very affordable! will review soon!) and then dabbed it with the peach corrector (left). on the third picture, i showed how different it creates by using & not using the corrector!
AMAZING RIGHT?!
on the right, it is just plain concealer while on the left the coverage is almost full already! and the result is just oh so good~!
you may also notice that the corrector & concealer color is abit too dark for my hand, which is true bc my face is alot pinker & abit darker than my hands (which for some reason is super pale). so
how does this work on my face? ->
so far, im loving the concealer! being a person with acne problems and has super sensitive skin, this product was super friendly & worked wonderfully on my face. and the
corrector
... im not sure if im loving this product or not. it feels 'heavy' on my face and it's very thick so i dont use the corrector & concealer on a daily basis. the corrector used on its own makes me look like a
pumpkin
, so that's a big no-no for me. plus the corrector has this 'greasy & oily' smell to it of which i hate in most cosmetics :( the
concealer/face touch up stick
on the other hand provides good coverage enough for me to go outside (hahahaha) after applying loose powder & powder pact (i try to avoid liquid foundation bc it irritates my skin like crazy), im good to go! the only con about it is that it doesnt really stay on that long and im not even a oily person (i have combination-dry skin) bt luckily it doesnt crease & give you disgusting streak marks!
in conclusion, ill give the
concealer (face touch up stick) a 4/5 and the corrector a 2.5/5
i hope that this review was somewhat helpful for your prochase choices/considerations! :)
see you soon with a eyeliner review post! <3
- Coco
*edit: i know alot of ppl use concealers for dark circles under your eyes, i highly recommend those with this problem to go try the corrector & concealer out @ your local store/counter. who knows, this might be the weapon to cover up those darkness under your eyes like alot of reviewers have claimed! :D